Answer
With a large bolus of contrast under high pressure, an alternative approach is to perform a balloon occlusion angiogram within the distal main pulmonary artery, which retrogradely should fill the anomalous left coronary artery (see the image below).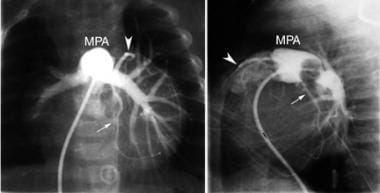 Main pulmonary artery angiogram demonstrating the technique of stop flow angiography. There is retrograde opacification of the entire left coronary artery system, which originates from the distal main pulmonary artery (MPA), including the anterior descending (solid white arrowhead) and circumflex (small white arrow) branches. Left panel: Frontal image. Right panel: Lateral image.
Although rare, false-negative results with this technique may be caused by incomplete occlusion of the main pulmonary artery or by balloon malposition. A balloon positioned in the proximal main pulmonary artery may occlude the orifice of the anomalous left coronary. Alternatively, if the anomalous left coronary artery arises from the left pulmonary artery, positioning the balloon in the distal main pulmonary artery may prevent contrast from entering the coronary artery. [16]
---
Did this answer your question?
Additional feedback? (Optional)
Thank you for your feedback!