Answer
Angiographic evaluation of the coronary artery system should be performed despite a negative echocardiogram if either the clinical history or electrocardiography (ECG) is strongly suggestive. [15]
Hemodynamic measurements are usually consistent with low cardiac output and elevated left atrial pressures secondary to reduced left ventricular compliance or significant mitral valve insufficiency.
Oximetry may show a small left-to-right shunt into the pulmonary arteries.
Aortography or selective right coronary arteriography usually demonstrates an enlarged right coronary artery system with collateralization to the left coronary artery and eventual reflux of contrast into the pulmonary arterial system (see the image below).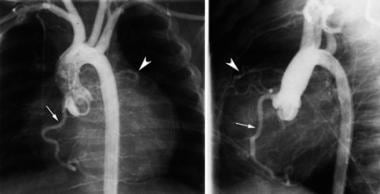 Aortogram in a patient with suspected anomalous origin of the left coronary artery from the pulmonary artery (ALCAPA). Frontal (left panel) and lateral (right panel) images demonstrating an enlarged right coronary artery (small white arrow), which fills a small left coronary system (solid arrow head) via collaterals with eventual faint opacification of the main pulmonary artery (not demonstrated in this frame).
If collateralization has not occurred, identification of the anomalous left coronary artery may not be evident by aortography or selective right coronary arteriography.
---
Did this answer your question?
Additional feedback? (Optional)
Thank you for your feedback!