Answer
Spontaneous closure of the patent ductus arteriosus (PDA) is common. If significant respiratory distress or impaired systemic oxygen delivery is present, therapy is usually prudent. Intravenous (IV) indomethacin (or the newer preparation of IV ibuprofen) is frequently effective in closing a patent ductus arteriosus (PDA) if it is administered in the first 10-14 days of life. Other options are catheter closure (see Cardiac Catheterization) and surgical ligation, which entails a thoracotomy (see Surgical Ligation) (see the following image).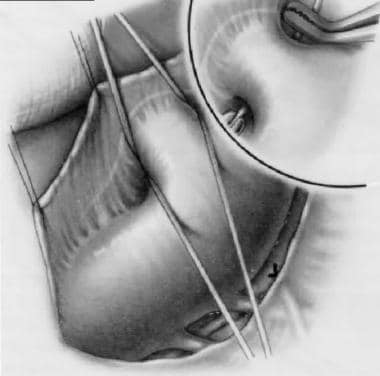 Diagram illustrating the patent ductus arteriosus.
Medical management also consists of amelioration of congestive heart failure (CHF) symptoms. CHF is an indication for closure of the patent ductus arteriosus (PDA) in infancy. If medical therapy is ineffective, urgent intervention to close the structure should be undertaken.
All patent ductus arteriosus (PDA) should be closed because of the risk of bacterial endocarditis associated with the open structure. Over time, the increased pulmonary blood flow precipitates pulmonary vascular obstructive disease, which is ultimately fatal.
Identification of additional cardiac malformations, such as coarctation or interrupted aortic arch or pulmonary atresia, is the most important requirement before pharmacologic or surgical closure of the patent ductus arteriosus (PDA). When surgical ligation is not indicated, prostaglandin inhibitors (eg, nonsteroid antiinflammatory drugs [NSAIDs]) are used to close the ductus arteriosus.
A ductal dependent lesion requires the persistence of a patent ductus arteriosus (PDA) to ensure adequate pulmonary blood flow.
---
Did this answer your question?
Additional feedback? (Optional)
Thank you for your feedback!