Answer
The allergens present in the outdoor environment vary with the time of year and location. Knowing what allergens are in the environment at a specific time of year helps in diagnosing and treating AR and helps in excluding allergy as a cause of the patient's symptoms. For example, a patient who presents with nasal congestion in November in Boston, Massachusetts cannot have allergic rhinitis attributed to tree pollen allergy, which is prevalent in spring.
Allergen exposure likely causes both upper and lower airway inflammation, meaning that both the nose and the lungs may be involved. Many experts believe that a patient's airway needs to be evaluated as a total entity, not as individual parts. Studies have shown that most patients with asthma also have AR. Guidelines regarding the impact of AR on asthma have been established. [2] Allergic reactions of the upper airway can trigger lower airway symptoms and vice versa. One study showed that patients with untreated AR and asthma have an almost 2-fold greater risk of having an emergency department visit and almost a 3-fold greater risk of being hospitalized for an asthma exacerbation, respectively. [3] Similarly there are studies that reveal treatment of one disease entity improves the other.
The graphs below detail the significant impact of nasal allergies.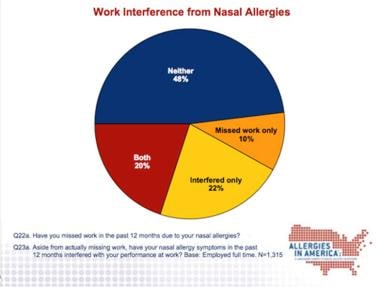 Nasal symptoms and affect on work performance.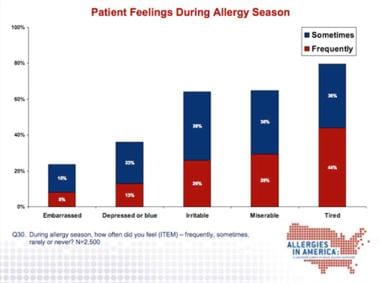 How patient feel when they have allergy symptoms.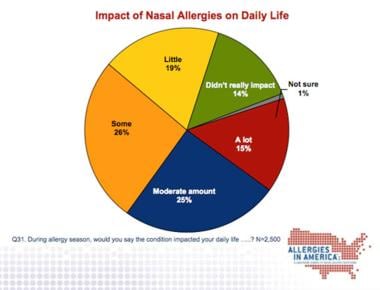 Impact of nasal allergies.
---
Did this answer your question?
Additional feedback? (Optional)
Thank you for your feedback!