Answer
Wiskott-Aldrich syndrome (WAS) was first described by Wiskott in 1937 and was further characterized by Aldrich in 1954. It is a rare X-linked recessive immunodeficiency disorder characterized by the triad of recurrent bacterial sinopulmonary infections, eczema (atopiclike dermatitis), and a bleeding diathesis caused by thrombocytopenia and platelet dysfunction. [6] However, only a third of patients with the syndrome have the classic triad. [7] Almost 90% of patients have manifestations of thrombocytopenia at presentation, 20% have only hematologic abnormalities, 5% have only infectious manifestations, and none have only eczema. [2] WAS platelets are usually smaller than those of idiopathic thrombocytopenia, but a macrothrombocytopenia has been described in WAS. [8] Other symptoms may include autoimmune phenomena and malignancies. [3]
An infant with WAS is seen in the image below.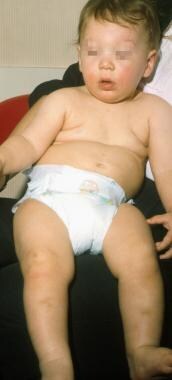 This 10-month-old infant presented with bloody diarrhea at age 4 months followed by recurrent otitis media infections. A maternal uncle had Wiskott-Aldrich Syndrome (WAS). Note the mild malar eczema and pretibial ecchymoses in this nonambulatory child. His diagnosis was confirmed by immunologic parameters, thrombocytopenia, and low platelet volume.
Wiskott-Aldrich syndrome occurs in males but can occur in females when the X chromosome that contains the functional allele is inactivated, although this is rare. There may be multiple revertant genotypes in patients with Wiskott-Aldrich syndrome. [9]
---
Did this answer your question?
Additional feedback? (Optional)
Thank you for your feedback!