Answer
Since the benefit-to-risk ratio is so high with canalith repositioning, it appears to be the obvious first choice among treatment modalities.
Particle repositioning is represented by two major maneuvers that developed simultaneously, yet independently, in the United States and France. These methods are the Epley maneuver and the Semont maneuver, and many minor variations of each of the methods exist. Both involve movements of the head to rearrange displaced particles. The Semont maneuver involves rapid and vigorous side-to-side head and body movements. The Epley maneuver is gentler and is described below. The canalith repositioning procedure (CRP) is a simple and noninvasive office treatment that is designed to cure BPPV in 1-2 sessions. See the image below. This therapy, in experienced hands, has a success rate of more than 95% for patients with BPPV.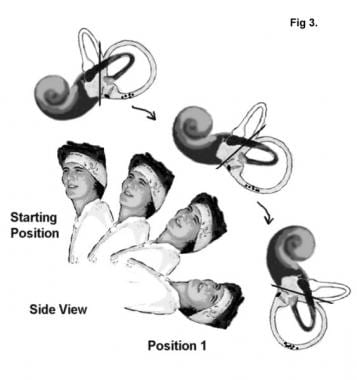 The patient is placed in a sitting position with the head turned 45° towards the affected side and then reclined past the supine position.
---
Did this answer your question?
Additional feedback? (Optional)
Thank you for your feedback!