Answer
Animal bites are not uncommon occurrences. However, victims who are treated in emergency centers represent only a small percentage of all bite victims. Although notification is mandatory in many states, an estimated 50% of all dog bites are not reported. See the image below.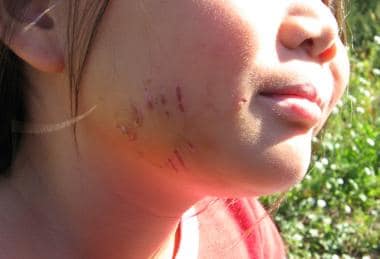 The child in this photo sustained a dog bite to the face. Courtesy of Wikimedia Commons, Tanner Ford, TRFPhotography.
Most animal bites are dog bites (80-90%). Cat bites make up approximately 10%, and bites from miscellaneous animals and rodents also contribute to these figures.
---
Did this answer your question?
Additional feedback? (Optional)
Thank you for your feedback!