Answer
This procedure is indicated when no known proximal facial nerve is available based upon MRI evaluation, physical examination, and topodiagnostic studies. The hypoglossal nerve provides the best crossover graft with minimal resultant lingual atrophy as seen in the image below. Facial nerve-hypoglossal nerve grafts are not indicated in many developmental paralysis because of the impairment of the distal peripheral nerve and neuromuscular junction (may be demonstrated on muscle biopsy). An ideal outcome of this technique is good symmetry at rest, some voluntary movement with synkinesis, and mass movement; however, no emotional facial expression is expected.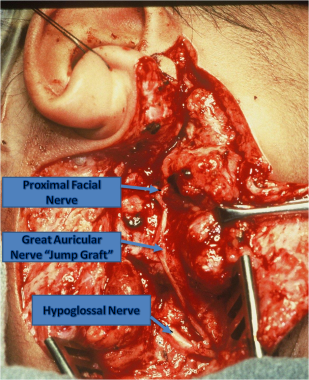 Surgical photo of a XII-VII crossover with jump graft. The great auricular nerve graft is sutured to the proximal portion of the facial nerve and to a partial sectioned hypoglossal nerve (preserving approximately two thirds of the axons going to the tongue). Image courtesy of A.D. Bruns.
---
Did this answer your question?
Additional feedback? (Optional)
Thank you for your feedback!