Answer
Congenital (present at birth) facial paralysis is uncommon and, when present, may cause multiple problems for the newborn, such as difficulty with nursing and incomplete eye closure. If the paralysis does not resolve, it may affect the child's future speech, expressions of emotion, and mastication. This article discusses the etiologies, evaluation, diagnostic testing, and treatment options for this disorder. [1]
Congenital facial paralysis is classified as traumatic or developmental, unilateral or bilateral, and complete or incomplete (paresis). Determining the etiology is important because the prognosis and treatment differ, depending on the underlying pathophysiology. An appropriate history and physical examination usually resolve the origin, but radiographic imaging and neuromuscular testing may be necessary for treatment planning.
An extended physical examination is needed to exclude other congenital malformations. Associated anomalies may include microtia, inner ear abnormalities, extraocular muscle paralysis, facial hypoplasia, other cranial nerve deficiencies, cleft palate, internal organ disorders, and extremity deformities.
A child with Möbius syndrome is depicted below.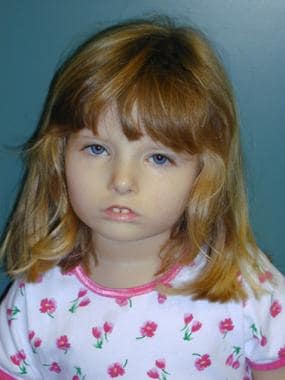 Child with Möbius syndrome, eyes open. Image courtesy of M.J. Biavati.
---
Did this answer your question?
Additional feedback? (Optional)
Thank you for your feedback!