Answer
Answer
Nasal physiology is greatly dependent on the physical structure of the nose. Seemingly individual aspects of the nasal cavity collectively affect nasal function. This article reviews pertinent basic nasal anatomy, nasal physiology, and objective measurements of nasal airflow (see image below). An overview of topics relevant to nasal airflow when performing rhinoplasty is also included.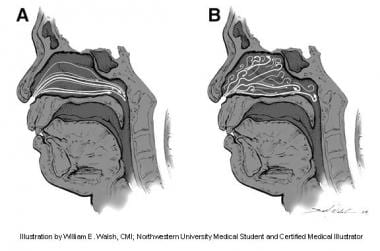 (A) Laminar nasal airflow at a low inspiratory flow rate. (B) Turbulent nasal airflow at a higher inspiratory flow rate. Illustration by William E. Walsh, CMI; Northwestern University medical student and certified medical illustrator.
---
Did this answer your question?
Additional feedback? (Optional)
Thank you for your feedback!