Answer
In the first century AD, Celsus described tonsillectomy performed with sharp tools and followed by rinses with vinegar and other medicinals. Since that time, physicians have been documenting management of tonsillitis. Tonsillitis gained additional attention as a medical concern in the late 19th century. The consideration of quinsy in the differential diagnosis of George Washington's death and the discussion of tonsillitis in Kean's Domestic Medical Lectures, a home medical companion book published in the late 19th century, reflect the rise of tonsillitis as a medical concern. [1, 2]
Understanding the disease process and management of this common malady remain important today. This article summarizes the current management of tonsillitis and highlights recent advances in the pathophysiology and immunology of this condition and its variations: acute tonsillitis (see the image below), recurrent tonsillitis, and chronic tonsillitis and peritonsillar abscess (PTA). [3]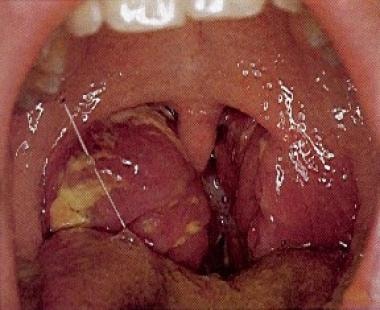 Acute bacterial tonsillitis is shown. The tonsils are enlarged and inflamed with exudates. The uvula is midline.
---
Did this answer your question?
Additional feedback? (Optional)
Thank you for your feedback!