Answer
Function of the cricoarytenoid (CA) joint depends on the complex interaction of several cartilaginous, muscular, and ligamentous structures. Any process affecting the normal neuromuscular inputs, supporting connective structures, or joint space may result in altered function and immobility. As a broad entity, CA (vocal-fold) immobility has dissonant etiologies, including central nervous system (CNS) pathology, neuromuscular disease, malignancy, local trauma, and psychogenic causes. Among these, cricoarytenoid (CA) joint fixation is a recognized, albeit relatively uncommon, entity. The terms cricoarytenoid (CA) immobility and cricoarytenoid (CA) fixation are often used inexactly and interchangeably; such use blurs their distinctions. See the image below.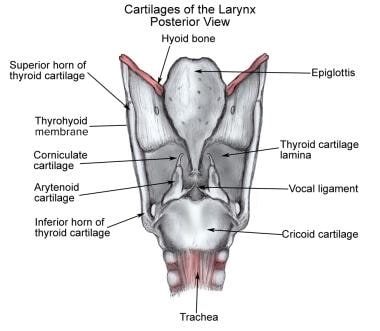 Cartilages of the larynx, posterior view.
This discussion is limited to cricoarytenoid (CA) fixation resulting from altered function of the cricoarytenoid (CA) joint, which must be distinguished from other causes of vocal fold immobility to allow for timely diagnosis and effective treatment.
---
Did this answer your question?
Additional feedback? (Optional)
Thank you for your feedback!