Answer
The Bivona tracheostomy tube is much like a foreshortened endotracheal tube. It has a grip that secures the tube at the desired position. One disadvantage is that the Bivona tracheostomy tube is a single-lumen tube. Meticulous care must be taken because this tube does not have an inner cannula to remove for cleaning. Additionally, obstruction of the tube by secretions necessitates removal of the outer cannula in the patient with a difficult airway. The variable length of the tube requires that placement be checked, either endoscopically or radiographically, to avoid mainstem ventilation.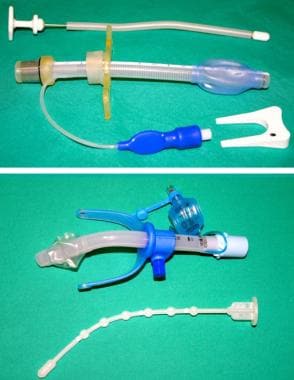 Bivona and Portex adjustable-neck-flange tubes.
In 2006, Tibballs et al reported complications using the Bivona tracheotomy tube. [10] They cited problems related to the tube's tendency to straighten itself once it is bent and inserted into the trachea through the tracheostoma. These problems include tracheal ulceration (1 case), distortion of tracheal soft tissue (1 case), and airway obstruction when the tip embedded into the tracheal wall (1 case).
---
Did this answer your question?
Additional feedback? (Optional)
Thank you for your feedback!