Answer
For anterior packing, various packing materials are available. Petroleum jelly gauze (0.5 in × 72 in) filled with an antibiotic ointment is traditionally used (see the image below). Layer it tightly and far enough posteriorly to provide adequate pressure. Blind packing with loose gauze is to be avoided.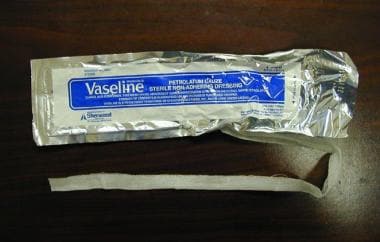 Vaseline gauze packing.
Merocel sponges can be placed relatively easily and quickly but may not provide adequate pressure (see the image below). They should be coated with an antibiotic ointment and can be hydrated with a topical vasoconstrictor.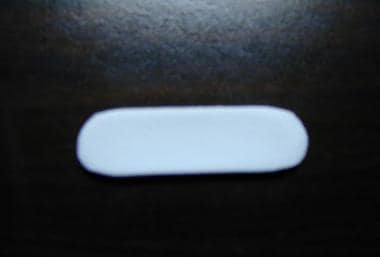 Expandable (Merocel) packing (dry).
All packings should be removed in 3-4 days. Absorbable materials (eg, Gelfoam, Surgicel, Avitene) may be used in patients with coagulopathy to prevent trauma upon packing removal. Administer prophylactic antibiotics to all patients with packing, and instruct them to avoid physical strain for 1 week.
Also see Anterior Epistaxis Nasal Pack.
---
Did this answer your question?
Additional feedback? (Optional)
Thank you for your feedback!