Answer
Bleeding from the Kiesselbach plexus (Little's area) is frequently treated with silver nitrate cauterization. [15] Manage the vessels leading to the site before managing the actual bleeding site. Avoid random and aggressive cauterization and cautery on opposing surfaces of the septum.
Electrocauterization with an insulated suction cautery unit can also be used. This method is usually reserved for more severe bleeding and for bleeding in more posteriorly located sites, and it often requires local anesthesia. The effectiveness of both cauterization methods can be enhanced by using rigid endoscopy, especially in the case of more posteriorly located bleeding sites (see the image below). [19]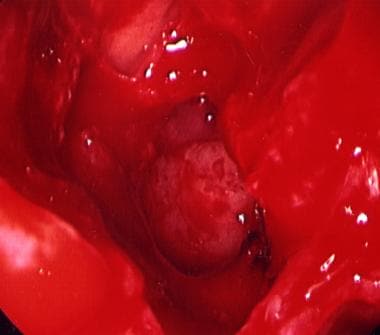 Resolved posterior epistaxis after endoscopic cauterization of the left sphenopalatine artery.
---
Did this answer your question?
Additional feedback? (Optional)
Thank you for your feedback!