Answer
Perform a thorough and methodical examination of the nasal cavity. Blowing the nose decreases the effects of local fibrinolysis and removes clots, permitting a better examination. Application of a vasoconstrictor (eg, 0.05% oxymetazoline) before the examination may reduce hemorrhage and help to pinpoint the precise bleeding site. A topical anesthetic (eg, 4% aqueous lidocaine) reduces pain associated with the examination and nasal packing. Clots are then suctioned out to permit a thorough examination.
Gently insert a nasal speculum (see the image below) and spread the naris vertically. Begin the examination with inspection, looking specifically for any obvious bleeding site on the septum that may be amenable to direct pressure or cautery. This permits visualization of most anterior bleeding sources. Anterior bleeds from the nasal septum are most common type, and the site can frequently be identified if bleeding is active.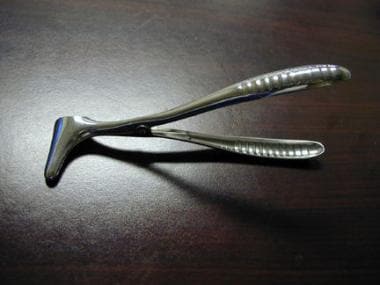 Nasal speculum.
If an anterior source cannot be visualized, if the hemorrhage is from both nares, or if constant dripping of blood is seen in the posterior pharynx, the bleeding may be from a posterior site. After placement of an anterior pack, and, if bleeding is noted in the pharynx with the anterior pack in place, strongly consider a posterior bleed.
---
Did this answer your question?
Additional feedback? (Optional)
Thank you for your feedback!