Answer
Fungal infections of the sinuses have recently been blamed for causing most cases of chronic rhinosinusitis. The evidence, though, is still controversial. Most fungal sinus infections are benign or noninvasive, except when they occur in individuals who are immunocompromised. Several reports are available that have shown invasive fungal infections in immunocompetent individuals. [1, 2, 3, 4]
Distinguishing invasive disease from noninvasive disease is important because the treatment and prognosis are different for each. Noninvasive disease has two varieties of presentations, and invasive disease has three varieties of presentations. This article reviews all five varieties. For patient education information, see the Headache and Migraine Center. Also, visit the patient education article Sinus Infection.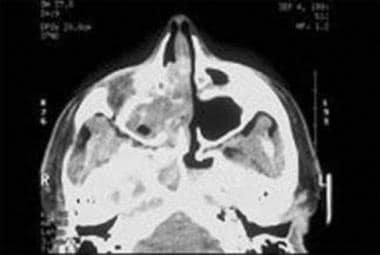 Axial CT scan of sinuses shows a right fungal maxillary sinusitis with an expanding mass (possibly aspergillosis).
---
Did this answer your question?
Additional feedback? (Optional)
Thank you for your feedback!