Answer
There is no substitute for a thorough clinical examination. Pneumatic otoscopy is the standard of care in the diagnosis of acute and chronic otitis media. In AOM, the tympanic membrane normally demonstrates signs of inflammation, beginning with reddening of the mucosa and progressing to the formation of purulent middle ear effusion and poor tympanic mobility. The tympanic membrane may bulge in the posterior quadrants, and the superficial epithelial layer may exhibit a scalded appearance (see the image below).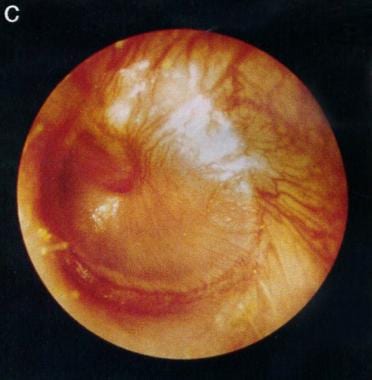 Tympanic membrane of a person with 12 hours of ear pain, slight tympanic membrane bulge, and slight meniscus of purulent effusion at bottom of tympanic membrane. Reproduced with permission from Isaacson G: The natural history of a treated episode of acute otitis media. Pediatrics. 1996; 98(5): 968-7.
---
Did this answer your question?
Additional feedback? (Optional)
Thank you for your feedback!