Answer
In the United States, acute otitis media (AOM), defined by convention as the first 3 weeks of a process in which the middle ear shows the signs and symptoms of acute inflammation, is the most common affliction necessitating medical therapy for children younger than 5 years. [1, 2, 3] See the image below.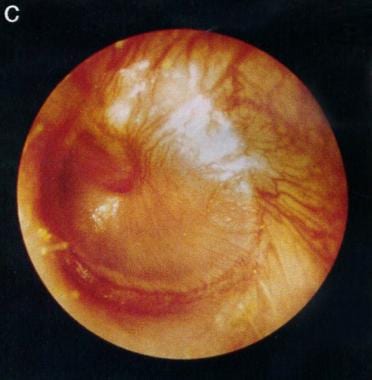 Tympanic membrane of a person with 12 hours of ear pain, slight tympanic membrane bulge, and slight meniscus of purulent effusion at bottom of tympanic membrane. Reproduced with permission from Isaacson G: The natural history of a treated episode of acute otitis media. Pediatrics. 1996; 98(5): 968-7.
---
Did this answer your question?
Additional feedback? (Optional)
Thank you for your feedback!