Answer
The tympanic membrane, also called the eardrum (or just the drum), is a stiff (but flexible), translucent, diaphragmlike structure. The eardrum moves synchronously in response to variations in air pressure, which constitute sound waves. The drum's vibrations are transmitted through the ossicular chain to the cochlea. In the cochlea, vibratory mechanical energy changes to electrochemical energy and streams via the eighth cranial nerve to the brain. The tympanic membrane and its attached ossicles thus act as a transducer, changing one form of energy into another form. (See the image below.) The biomechanical coupling of this conductive system produces a gain that can help to overcome the impedance mismatch as the energy undergoes a phase shift from air to the liquid of the inner ear.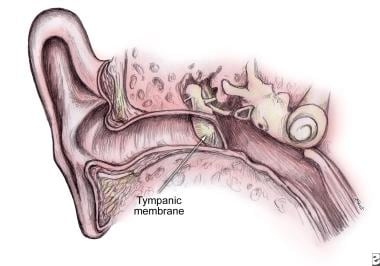 Tympanic membrane (TM) as continuation of the upper wall of external auditory canal (EAC) with angle of incline up to 45 degrees on the border between middle ear and the EAC.
---
Did this answer your question?
Additional feedback? (Optional)
Thank you for your feedback!