Answer
Technetium-99 (99m Tc) diphosphonate 3-phase bone scanning has traditionally been the imaging modality of choice.
Bone scanning is nearly 100% sensitive for the diagnosis of stress fractures, although the specificity of this modality is considerably lower.
Bone scans can demonstrate stress fractures within 24-72 hours from the onset of symptom(s) (see the image below).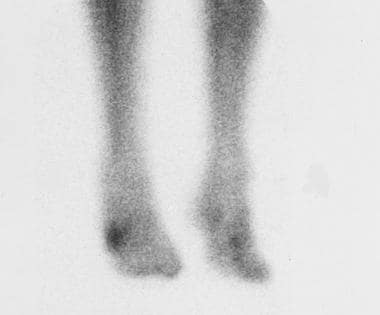 Bone scan of the lower extremities. This image depicts a right fifth metatarsal stress fracture.
Differentiation between stress fractures and stress reactions may be determined with a bone scan.
---
Did this answer your question?
Additional feedback? (Optional)
Thank you for your feedback!