Answer
Answer
On CT scans, peripheral primitive neuroectodermal tumors (pPNETs) appear as heterogeneous masses, often invading surrounding tissues, including bone. A study by Ba et al found the masses to be hypodense on CT scans, with osteolytic destruction revealed when the tumors originated in bone. The study also found ill-defined margins demonstrated in all of the bone lesions and more than half of the soft tissue tumors, after contrast administration. [21]
A study by Xiao et al found that in pediatric patients, the major CT-scan features of pPNETs included poor definition (72.2%), irregular shape (83.3%), heterogeneity (66.7%), and hypodensity (94.4%), again with osteolytic bone destruction demonstrated by pPNETs arising in bone. With contrast administration, all of the soft-tissue masses showed heterogeneous enhancement, with cystic or necrotic areas also seen and with linear enhancement occurring in 71.4% of the soft-tissue lesions. [22]
According to Ba's study, the tumors appeared on T1-weighted MRI scans as irregular lesions that were isointense to hypointense to skeletal muscle, while appearing heterogeneously hyperintense on T2-weighted images. As on CT images, bone tumors on MRI scans were seen in association with osteolytic destruction. [21, 23] (See the images below.)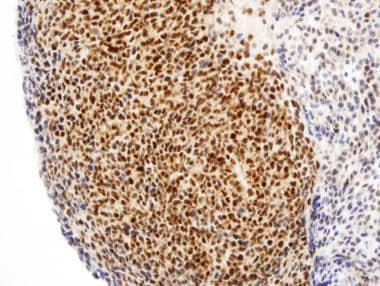 Photomicrograph shows characteristic nuclear FLI-1 staining in peripheral primitive neuroectodermal tumor.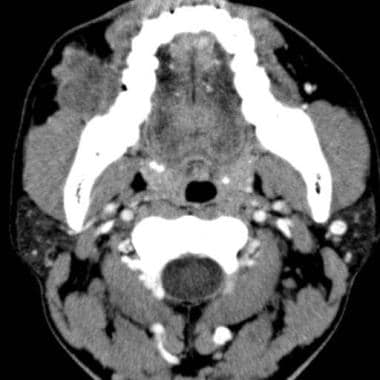 Axial CT scan depicting peripheral primitive neuroectodermal tumor. Immunohistochemical staining ultimately confirmed diagnosis of a peripheral primitive neuroectodermal tumor.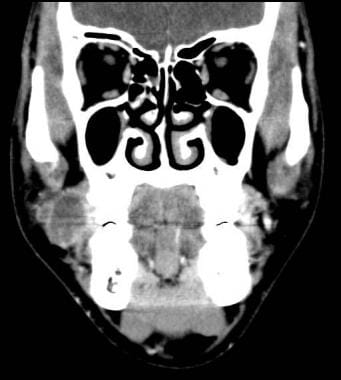 Coronal CT scan showing a 2x3 cm partially septated mass, predominately hypodense to skeletal muscle, nestled between the lateral aspect of the right buccinator muscle, the anterior aspect of the right masseter muscle, and the medial aspect of the right buccal fat pad.
---
Did this answer your question?
Additional feedback? (Optional)
Thank you for your feedback!