Answer
Answer
Ultrastructural and immunohistochemical studies provide support for each hypothesis. Merkel cells and MCCs have similar neuroendocrine markers, such as neuron-specific enolase, chromogranin, and synaptophysin. However, MCC expresses neurofilament proteins not observed in normal Merkel cells. MCC seldom expresses vasoactive intestinal peptide or metenkephalin, 2 markers found in healthy Merkel cells. See image shown below.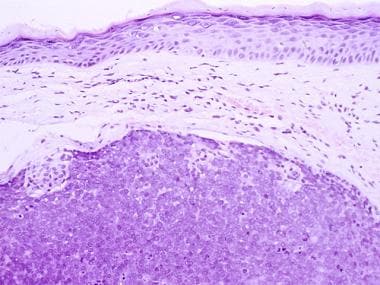 Histologic appearance of nodular Merkel cell carcinoma. This dermal nodule has a cohesive, expansile growth of basophilic cells.
---
Did this answer your question?
Additional feedback? (Optional)
Thank you for your feedback!