Answer
Answer
In approximately 5 of 1000 patients, a nonrecurrent laryngeal nerve is found on the right side. This arrangement occurs when a retroesophageal right subclavian artery arises from the dorsal side of the aortic arch. The nonrecurrent laryngeal nerve branches from the vagus at approximately the level of the cricoid cartilage and directly enters the larynx without looping around the subclavian artery. A left-sided nonrecurrent laryngeal nerve RLN can occur only when a right-sided aortic arch and ligamentum arteriosum are concurrent with a left retroesophageal subclavian artery.
The inferior thyroid artery has been described as an important landmark for identifying the RLN. However, its relationship to the nerve is subject to variation (see the image below). Numerous descriptions and attempts to quantify the percentages of each relationship of the nerve to the artery have been put forth. Percentages differ on the right and left sides. On the right, the nerve runs between branches of the artery in approximately 50% of patients. The nerve is anterior to the artery in 25% and posterior in 25%. On the left, the nerve courses posteriorly to the artery in 50% of patients; in approximately 35%, the nerve runs between branches. In only 15% is it anterior to the artery. In summary, the nerve is always near the artery, but the exact relationship cannot be determined with certainty. Therefore, the inferior thyroid artery is not a dependable landmark for identifying the nerve.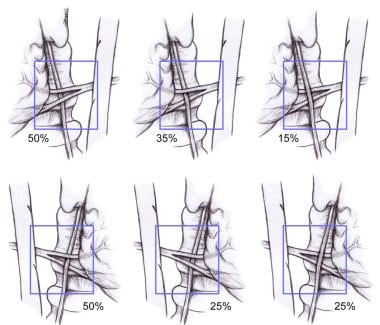 Relationship of the recurrent laryngeal nerve (RLN) to the left and right inferior thyroid arteries.
---
Did this answer your question?
Additional feedback? (Optional)
Thank you for your feedback!