Answer
Answer
Tumors can grow directly through the thyroid capsule to invade surrounding structures. Growth into the trachea can occur, producing hemoptysis. Extensive involvement can cause airway obstruction. The recurrent laryngeal nerves can become involved because of their proximity in the tracheoesophageal groove. Patients present with a hoarse, breathy voice and, occasionally, dysphagia.
Regional and metastatic disease
Another common feature of papillary carcinoma is its propensity to spread to the cervical lymph nodes. Clinically evident lymph node metastases are present in approximately one third of patients at presentation. Microscopic metastases are present in one half. The most common site of lymph node involvement is in the central compartment (level 6) located medial to the carotid sheaths on both sides, with extension from the hyoid bone superiorly to the sternal notch inferiorly. The jugular lymph node chains (levels 2-4) are the next most common sites of cervical node involvement. Lymph nodes in the posterior triangle of the neck (level 5) may also develop metastases. This finding has important implications on the treatment algorithm for patients in this situation (see Treatment and Prognosis below and the images below).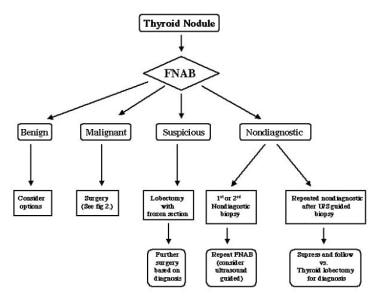 Algorithm for the management of a solitary thyroid nodule. FNAB = fine needle aspiration biopsy; US = ultrasonography.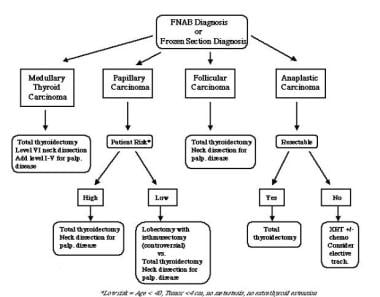 Algorithm for the management of malignant thyroid neoplasms. FNAB = fine needle aspiration biopsy; XRT = external-beam radiation therapy.
A study by Kim et al indicated that in patients with papillary thyroid cancer, a tumor size of greater than 1 cm and nonretroesophageal lateral lymph node metastasis are independent predictors of right retroesophageal lymph node metastasis. [14]
Approximately 5-10% of patients with papillary thyroid carcinoma develop distant metastases. Distant spread of papillary carcinoma typically affects the lungs and bone.
---
Did this answer your question?
Additional feedback? (Optional)
Thank you for your feedback!