Answer
Answer
Thyroid malignancy occurs with relative infrequency in the United States, although benign thyroid disease is relatively common. Although patients with thyroid cancers generally have a favorable prognosis compared with that of patients with many other solid tumors, an estimated 1200 patients died of thyroid cancer in the United States in 1998. Contemporary treatment of patients with thyroid malignancy requires a multidisciplinary approach involving an endocrinologist, a thyroid surgeon, a radiologist, and, on occasion, medical and radiation oncologists.
In a European study of 86,690 patients with thyroid cancer, Dal Maso et al found that between 2000 and 2007, the 5-year relative thyroid cancer survival rates in men and women were 81% and 88%, respectively. Between 1999 and 2007, the 5-year relative survival rate for all thyroid cancers rose by 5%, although for papillary and follicular cancers, specifically, the increase was only 2% and 4%, respectively. [4]
For patient education information, see the Thyroid and Metabolism Center, as well as the patient education article Thyroid Problems.
An image of Hurthle cells can be seen below.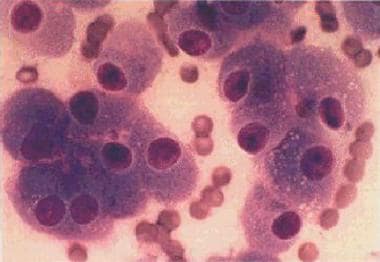 A monomorphous cell population of Hürthle cells arranged in loosely cohesive clusters and single cells. The cells are polyhedral and have abundant granular cytoplasm with well-defined cell borders. The nuclei are enlarged and have a central prominent macronucleolus.
---
Did this answer your question?
Additional feedback? (Optional)
Thank you for your feedback!