Answer
Answer
Thyroid cancers represent approximately 1% of new cancer diagnoses in the United States each year. Thyroid malignancies are divided into papillary carcinomas (80%), follicular carcinomas (10%), medullary thyroid carcinomas (5-10%), anaplastic carcinomas (1-2%), primary thyroid lymphomas (rare), and primary thyroid sarcomas (rare).
Hürthle cell carcinoma is a rare thyroid malignancy that is often considered a variant of follicular carcinoma. Hürthle cell carcinomas account for 2-3% of all thyroid malignancies. They occur more commonly in women than in men and typically manifest in the fifth decade of life. The clinical presentation is similar to that of other thyroid malignancies. See the image below.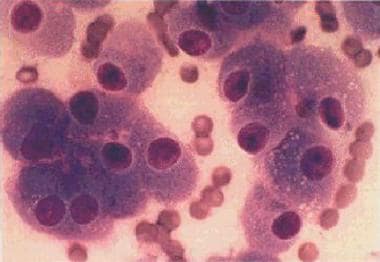 A monomorphous cell population of Hürthle cells arranged in loosely cohesive clusters and single cells. The cells are polyhedral and have abundant granular cytoplasm with well-defined cell borders. The nuclei are enlarged and have a central prominent macronucleolus.
For summarized information on staging and treatment, see Thyroid Cancer Staging and Thyroid Cancer Treatment Protocols.
---
Did this answer your question?
Additional feedback? (Optional)
Thank you for your feedback!