Answer
Answer
This operation involves excision of the level VI lymph nodes (selective neck dissection [VI]). The procedure is indicated for the treatment of cancers of the thyroid gland (see image below), hypopharynx, cervical trachea, cervical esophagus, and subglottic larynx.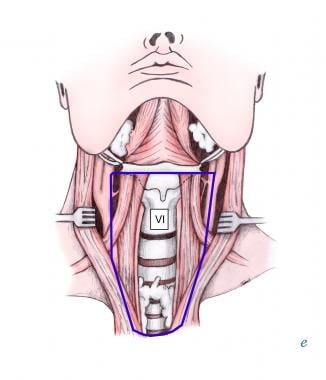 Selective neck dissection for thyroid cancer: selective neck dissection VI, or anterior neck dissection.
The boundaries of the dissection are the hyoid bone superiorly, the suprasternal notch inferiorly, and the carotid sheaths on both sides. Hypoparathyroidism may be a disabling complication if care is not taken to identify and preserve the parathyroid glands, and injury to the parathyroid blood supply is a risk with this procedure. Excising and reimplanting the glands into the sternomastoid or pectoralis major muscle may be necessary. Alternatively, the dissection may be limited to one side if the lesion is not close to the midline, particularly if radiation therapy can be administered postoperatively.
A study by Song et al in which robotic selective neck dissection with total thyroidectomy was compared with conventional transcervical selective neck dissection with total thyroidectomy found that patients with papillary thyroid carcinoma who underwent the robotic surgery had higher postoperative cosmetic satisfaction. However, it was also found that length of surgery and degree of anterior chest pain were greater with the robotic technique. [23]
---
Did this answer your question?
Additional feedback? (Optional)
Thank you for your feedback!