Answer
Answer
Selective neck dissection (II-IV) is the surgical procedure of choice in the elective treatment of neck disease in patients with cancers that originate in the oropharynx, hypopharynx, or larynx (refer to image below). [22]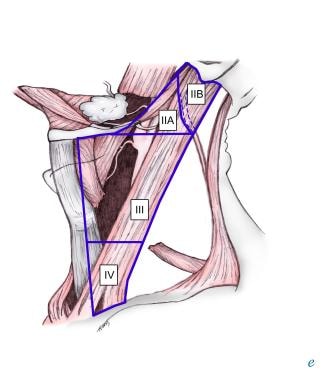 Selective neck dissection levels II-IV.
The spinal accessory nerve, sternomastoid muscle, and internal jugular vein are spared in this operation, while the lymph nodes are removed from the skull base superiorly to the clavicle inferiorly, and from the cutaneous branches of the cervical plexus at the posterior border of the sternocleidomastoid muscle posteriorly to the sternothyroid muscle anteriorly. If the jugular chain nodes above the spinal accessory nerve were preserved, the procedure would be named selective neck dissection (IIa, III, IV).
---
Did this answer your question?
Additional feedback? (Optional)
Thank you for your feedback!