Answer
Answer
Selective removal of the level I, II, and III lymph nodes is the surgical procedure of choice for management of N0 and N1 disease that originates from cancers of the oral cavity as shown below; however, because of the lymphatic drainage of the oral tongue, some authorities advocate selective neck dissection (I-IV) for cancers that originate from this subsite. The operation includes the resection of soft tissue in the submental triangle, along with the submandibular triangle contents, including the submandibular gland and the fibrofatty tissue along the internal jugular vein from the skull base to the omohyoid muscle (or clavicle). The dissected contents include the fascia that covers the medial aspect of the sternomastoid muscle; the muscle itself is laterally retracted and preserved. These neck contents are peeled off from the internal jugular vein and from around the accessory nerve, sparing these structures (see the image below).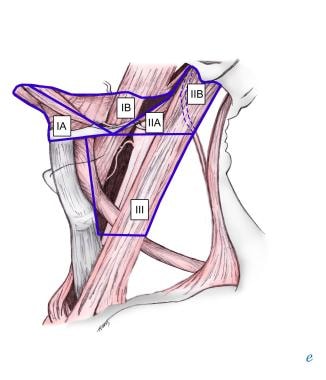 Selective neck dissection levels I-III.
---
Did this answer your question?
Additional feedback? (Optional)
Thank you for your feedback!