Answer
Answer
This refers to lymph nodes of the anterior, or central, compartment of the neck. Defined by the carotid arteries laterally, the hyoid bone superiorly, and the suprasternal notch inferiorly, it is rich in lymphatics that drain the thyroid gland, subglottic larynx, cervical trachea, hypopharynx, and cervical esophagus. Lymph nodes in this compartment are located in the tracheoesophageal groove (paratracheal nodes), in front of the trachea (pretracheal nodes), around the thyroid gland (parathyroidal nodes), and on the cricothyroid membrane (precricoid or Delphian node). Lymph nodes in the central compartment are not routinely excised in radical neck dissection; most commonly, they are removed during surgery for thyroid, laryngeal, and hypopharyngeal cancer. See image shown below.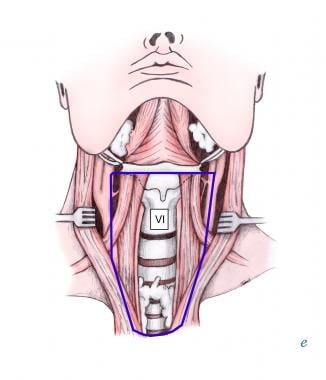 Selective neck dissection for thyroid cancer: selective neck dissection VI, or anterior neck dissection.
---
Did this answer your question?
Additional feedback? (Optional)
Thank you for your feedback!