Answer
Answer
This refers to the group of nodes related to the lower third of the jugular vein. These nodes are located between the inferior border of the cricoid cartilage and the clavicle, and, like level III, the anterior boundary is the sternohyoid muscle, and the posterior border is the posterior border of the sternocleidomastoid muscle. The nodes of level IV commonly harbor metastasis from cancer that originates in the larynx, hypopharynx, thyroid, [14] and cervical esophagus as shown below.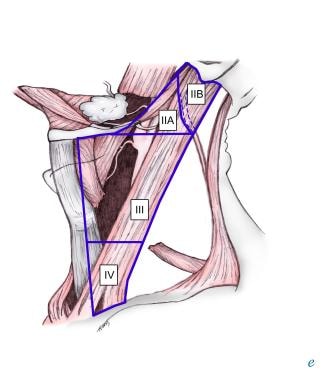 Selective neck dissection levels II-IV.
A literature review by Weisz Shabtay and Ronen reported that in patients with clinically negative neck (cN0) oral tongue squamous cell carcinoma, level IV involvement was found in just 16 out of 498 patients, with the incidence of skip metastases, that is, metastases that bypassed levels I-III and spread directly to level IV, also being low. Therefore, the investigators recommended that patients with cN0 oral tongue squamous cell carcinoma undergo elective neck dissection of levels I-III. [15]
---
Did this answer your question?
Additional feedback? (Optional)
Thank you for your feedback!