Answer
Answer
Level II lymph nodes are related to the upper third of the jugular vein, extending from the skull base to the inferior border of the hyoid bone. The posterior border of level II is the posterior border of the sternocleidomastoid muscle, while the anterior border of level II has been defined as the stylohyoid muscle. As mentioned above, however, the 2008 classification revision proposed that the vertical plane marked by the posterior edge of the submandibular gland be used as an alternative to the stylohyoid muscle boundary. [11]
The spinal accessory nerve, which travels obliquely across this area, is used as a landmark to subdivide this group into IIb, the portion above and behind the nerve, and IIa, the part that lies anteroinferiorly and closer to the internal jugular vein as depicted below. The nodes in level II are at greatest risk of harboring metastasis from cancers that arise from the oral cavity, nasal cavity, nasopharynx, oropharynx, hypopharynx, larynx, and parotid gland.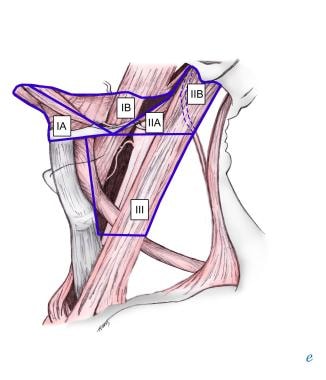 Selective neck dissection levels I-III.
---
Did this answer your question?
Additional feedback? (Optional)
Thank you for your feedback!