Answer
Answer
This level has been defined as being bound by the body of the mandible superiorly, the stylohyoid muscle posteriorly, and the anterior belly of the digastric muscle on the contralateral side anteriorly. However, the 2008 classification revision proposed that, as an alternative to the stylohyoid muscle, the vertical plane marked by the posterior edge of the submandibular gland be used as a boundary between levels I and II. [11]
Level I may be divided into level Ia, which refers to the nodes in the submental triangle (bound by the anterior bellies of the digastric muscles and the hyoid bone), and Ib, which refers to the submandibular triangle nodes (see image below). The nodes of level Ia are at greatest risk of harboring metastasis from cancers that arise from the floor of mouth, anterior tongue, anterior mandibular alveolar ridge, and lower lip, while the nodes of level Ib often receive metastasis from cancers of the oral cavity, anterior nasal cavity, soft tissue structures of the midface, and submandibular gland.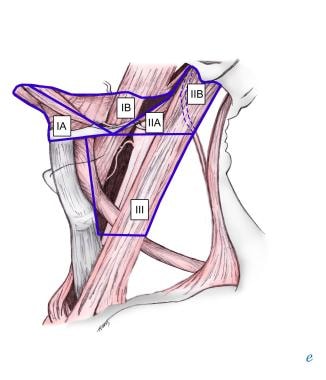 Selective neck dissection levels I-III.
Closely related, although not strictly a part of the level I group of nodes, are the perifacial nodes, related to the facial vessels above the mandibular margin, and the buccinator nodes, which may become involved with metastasis from tumors in the buccal mucosa, nose, and soft tissues of the cheek and lips.
---
Did this answer your question?
Additional feedback? (Optional)
Thank you for your feedback!