Answer
Answer
The lymphatic drainage of the mucosal surfaces and other tissues of the head and neck is directed to the lymph nodes located within the fibroadipose tissue that lies between the investing (superficial) layer of the deep fascia superficially and the visceral and prevertebral layers underneath. In this space, these lymph nodes tend to be aggregated around certain neural and vascular structures such as the internal jugular vein, spinal accessory nerve, and transverse cervical artery. [13]
In his 1964 study of lymphatic drainage of this area, Fisch, using the technique of lymphography, was able to improve upon the anatomic classification proposed by Rouviere. [6] Fisch classified these lymph nodes into the following 5 categories: junctional, jugular, spinal, supraclavicular, and retroauricular. However, the nomenclature in popular use today comes from the Memorial Sloan Kettering Cancer Center. This classification was used to describe the patterns of metastatic dissemination observed in more than 1000 patients who were treated at the center with radical neck dissection. Lymph nodes in the neck are grouped into levels I-V, corresponding with the submandibular and submental nodes (level I); upper, middle, and lower jugular nodes (levels II, III, IV); and posterior triangle nodes (level V). Refer to the following image.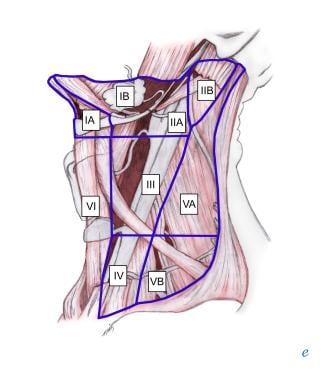 The 6 levels of the neck with sublevels.
---
Did this answer your question?
Additional feedback? (Optional)
Thank you for your feedback!