Answer
Malignant external otitis (MEO) is an infection that affects the external auditory canal and temporal bone. The causative organism is usually Pseudomonas aeruginosa, and the disease commonly manifests in elderly patients with diabetes. The infection begins as an external otitis that progresses into an osteomyelitis of the temporal bone. Spread of the disease outside the external auditory canal occurs through the fissures of Santorini and the osseocartilaginous junction. [1]
Toulmouche was probably the first physician to report a case of malignant external otitis (MEO), in 1838. In 1959, Meltzer reported a case of pseudomonal osteomyelitis of the temporal bone. In 1968, Chandler discussed the clinical characteristics of malignant external otitis (MEO) and defined it as a distinct clinical disease. [2] He described this external otitis as malignant because he observed an aggressive clinical behavior, poor treatment outcome, and a high mortality rate for the patients affected by this disease.
The subsequent development of effective antibiotics for treating pseudomonal infections has improved the treatment outcomes for patients with malignant external otitis (MEO). Thus, some physicians have suggested that the term malignant should be abandoned in order to provide a more accurate description of the disease process.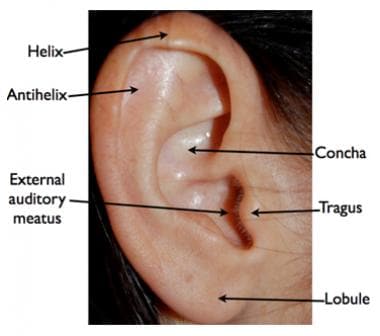 Anatomy of the ear.
---
Did this answer your question?
Additional feedback? (Optional)
Thank you for your feedback!