Answer
For centuries, the diagnosis and treatment of deep neck space infections have challenged physicians and surgeons. The complexity and the deep location of this region make diagnosis and treatment of infections in this area difficult. These infections remain an important health problem with significant risks of morbidity and mortality. A careful history and physical examination are critical to the workup in deep neck space infections. The airway is the first priority of treatment. [1] See the image below.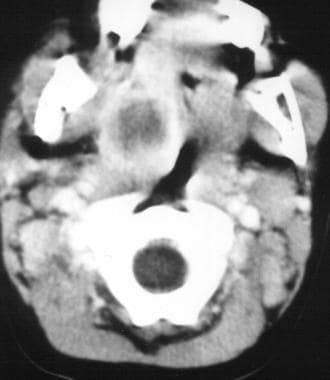 CT scan of the neck demonstrating left peritonsillar abscess.
See 10 Patients with Neck Masses: Identifying Malignant versus Benign, a Critical Images slideshow, to help identify several types of masses.
---
Did this answer your question?
Additional feedback? (Optional)
Thank you for your feedback!