Answer
Answer
With a stapled or hand-sewn diverticulectomy and CP myotomy, the pouch neck is either oversewn or stapled, and the pouch is excised. The CP muscle is divided longitudinally no less than 5 cm. This is typically performed through a left neck incision and is primarily closed with a closed-suction drain in place.
For many years, diverticulectomy was considered the standard approach. The endoscopic approaches, however, have come to be favored in the United States. The open approach nonetheless remains a useful option for patients who remain symptomatic after an endoscopic approach or for those patients who wish to have more definitive removal of the sac. (See the image below.)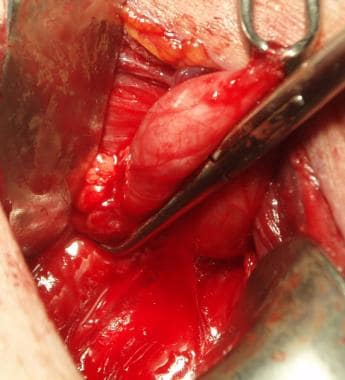 View of a Zenker diverticulum with transverse fibers of the cricopharyngeus muscle below the diverticulum, as viewed through the left side of the neck.
Preoperative details
Precede this surgery with direct laryngoscopy and rigid esophagoscopy, principally to assess the mucosa. Many surgeons find placement of a Foley catheter in the Zenker diverticulum helpful to facilitate locating the Zenker diverticulum later in the procedure. Other maneuvers include placing a Maloney dilator or nasogastric (NG) tube in the esophagus to facilitate later dissection.
Intraoperative details
Diverticulectomy with CP myotomy is carried out as follows:
Make a through transverse incision at the level of the cricoid, extending laterally to the sternocleidomastoid (SCM) muscle

Retract the SCM muscle and carotid sheath contents laterally; retract the thyroid and thyroid cartilage medially, and turn them slightly away from the dissection

The recurrent laryngeal nerve (RLN) is not routinely identified

Perform the dissection on the diverticulum if readily apparent; if the sac is not apparent, begin dissection posteriorly in the midline at the level of the inferior constrictor muscle, extending inferiorly until the sac is encountered

Then transect the sac neck either sharply or with a stapler/cutter device

If the sac neck is sharply transected, perform closure with 3-0 or 4-0 absorbable suture placed in a Connell closure with 2-3 layers
Postoperative details
Postoperative care following diverticulectomy with CP myotomy includes the following:
Place an NG tube for 3-4 days

If a stapler/cutter such as a GIA device is used, an NG tube may not be necessary

Start alimentation slowly

Closely monitor temperature; obtain a chest radiograph
---
Did this answer your question?
Additional feedback? (Optional)
Thank you for your feedback!