Answer
Answer
The criterion standard of confirmatory evaluations is the barium swallow with videofluoroscopy. This study provides information about the size, location, and character of the mucosal lining of the Zenker diverticulum, as depicted in the image below. Certain radiographic features of the diverticulum neck may predict the likelihood of success of the endoscopic stapling approach. [18]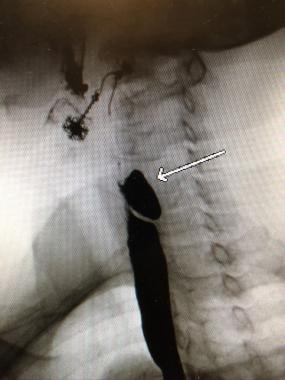 Very prominent cricopharyngeal muscle creating obstruction immediately inferior to the diverticulum.
Patients with symptomatic disease usually have a posterior midline pouch greater than 2 cm in diameter arising just above the cricopharyngeus (CP) muscle. No other study is required if no other abnormality is present. [11, 12]
---
Did this answer your question?
Additional feedback? (Optional)
Thank you for your feedback!