Answer
Answer
Zenker diverticulum, a pulsion diverticulum of the hypopharynx, is a rare lesion that occurs in elderly populations. The condition results in a classic presentation of symptoms, with complications that include aspiration and pneumonia, and is managed by endoscopic [1, 2] and open transcervical surgical repair. (See the image below.)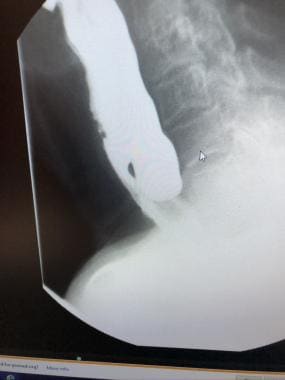 Barium swallow showing posteriorly positioned, moderate-sized Zenker diverticulum.
Zenker diverticula are lined with stratified squamous epithelium with a thin lamina propria. No muscular layer exists. Fibrosis surrounding the diverticulum is common.
A study by Schoeff et al suggested that patients with Zenker diverticulum often have a subjective voice handicap and that, as indicated on the voice handicap index, these patients frequently perceive postoperative voice quality improvement. In this study, surgery consisted of either transoral endoscopic diverticulotomy with laser assistance, or a transcervical approach with diverticulopexy or diverticulectomy. [3]
In a study of 139 patients with Zenker diverticulum who underwent transoral septum stapling, Siboni et al found, at median 38-month follow-up, statistically significant decreases in the following rates [4] :
Chronic cough - 36.8% versus 7.9%

Recurrent episodes of pneumonia - 6.6% versus 0.0%

Dysphagia - 78.9% versus 6.6%

Regurgitation - 67.1% versus 6.6%
---
Did this answer your question?
Additional feedback? (Optional)
Thank you for your feedback!