Answer
Answer
Increasingly, clinicians are using infrared technology to record eye movements for ENG. These systems are commonly referred to as videonystagmography (VNG). Horizontal and vertical tracings of eye movements are produced by the camera tracking the pupil of the eye. Since the camera uses infrared technology, these tracings can be made with the patient in complete darkness, thereby eliminating any visual fixation points. The systems may use a camera for one or both eyes, as shown in the images below.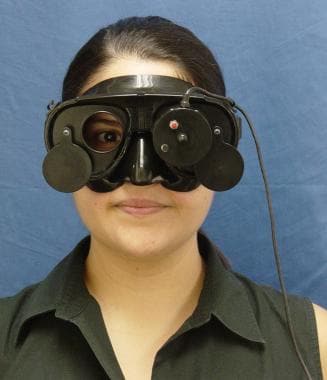 Binocular camera recording for videonystagmography.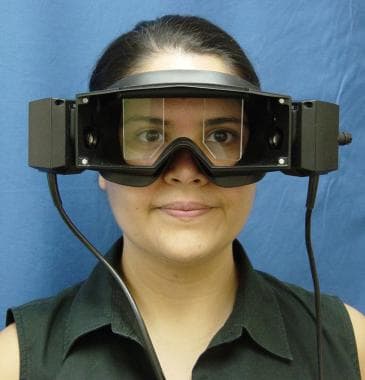 Binocular camera recording for videonystagmography.
VNG offers many advantages that make it a preferred method over electrodes. [5] Probably the most important of these advantages is that all eye movements are captured on video and can be viewed by the clinician during and after testing. In addition to capturing horizontal and vertical eye tracings, the clinician is able to visually assess for torsional eye movement by observing the striations of the iris. This is especially important for the diagnosis of benign paroxysmal positional vertigo.
According to a study of 100 patients suffering from vestibular disorders of peripheral, central and mixed origin, VNG is equally effective as ENG for assessing vertigo and distinguishing peripheral and central vestibular lesions. [6]
---
Did this answer your question?
Additional feedback? (Optional)
Thank you for your feedback!