Answer
Answer
Traditional ENG includes the use of electro-oculography to objectively measure eye movements. This recording is possible because of the corneal-retinal potential difference; the cornea is electropositive relative to the retina. With a fixed recording site, voltage differences can be recorded for eye movements. Electrodes are placed around the patient's eyes to record the corneal-retinal potential differences. By placing electrodes on both a horizontal and vertical axis around the eyes, tracings are produced for eye movements on both axes (see the image below).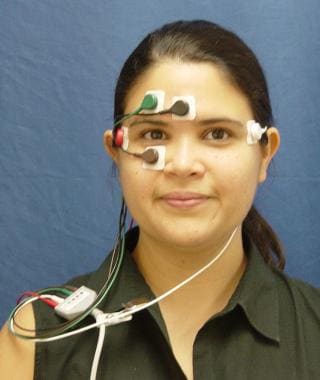 Electrode montage for electronystagmography testing.
---
Did this answer your question?
Additional feedback? (Optional)
Thank you for your feedback!