Answer
A retrospective study in North Carolina by Miller et al indicated that various socioeconomic factors, including low income, residency in rural areas, low-quality housing, and reduced access to health care, are associated with the severity of allergic fungal sinusitis (AFS). The investigators, whose study involved 93 patients, determined that the prevalence of AFS-associated bone erosion was greater in patients living in counties with a lower per-capita income or with older, poorer-quality housing, while patients with orbitocranial involvement tended to be found in rural counties with fewer primary care providers per capita. The study also concluded, however, that disease severity did not correlate with patients' race, age, gender, or insurance status. [31] The potential for AFS recidivism is well respected and ranges from 10% to nearly 100%. Recurrence can be in the form of mucosal edema, as depicted in the first image below, polyps as depicted in the second image below, scarring, allergic mucin, or fungal debris. However, published rates of allergic fungal sinusitis (AFS) recurrence can be misleading and are highly dependent on length of follow-up study. To emphasize the importance of long-term surveillance, Bent and Kuhn pointed out that, in their experience, the often-dramatic initial response to surgical therapy eventually was replaced by recurrence of allergic fungal sinusitis (AFS) in the absence of ongoing therapy.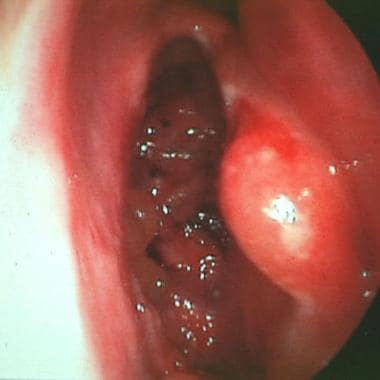 Two-week postoperative endoscopic picture showing polypoid thickening already in the ethmoid cavities while the patient was still on tapering steroids; on the left is the lateral nasal wall. The right shows the middle turbinate next to the septum.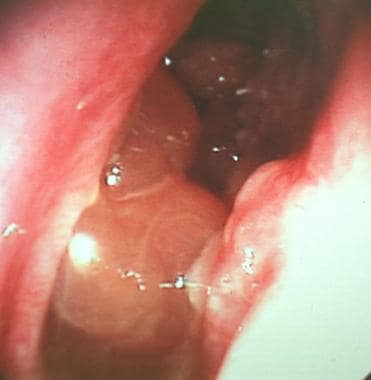 A polypoid recurrence in the center of the ethmoid cavity. The septum is on the left.
Similarly, Kupferburg et al monitored the appearance of sinonasal mucosa of 24 patients treated with combined medical and surgical therapy for allergic fungal sinusitis (AFS). Of the 24 patients, 19 eventually developed recurrence of disease after discontinuation of systemic corticosteroids, but the authors observed that endoscopic evidence of disease generally preceded return of subjective symptoms.
Allergic fungal sinusitis (AFS) recidivism appears to be influenced by long-term postoperative therapy. Schubert and Goetz reported the long-term clinical outcome of 67 patients following initial surgical therapy for allergic fungal sinusitis (AFS). Patients treated with at least 2 months of oral corticosteroids were compared to those who received no corticosteroids. At 1 year following initial surgery, patients treated with oral corticosteroids were significantly less likely to have experienced recurrent allergic fungal sinusitis (AFS; 35%) than those who had not (55%). However, allergic fungal sinusitis (AFS) recidivism remains high despite appropriate postoperative medical therapy. Fungal and nonfungal specific immunotherapy holds some potential as a form of postoperative treatment in patients with allergic fungal sinusitis (AFS), but clinical failures can arise during immunotherapy.
In a review of 42 patients who had received immunotherapy following surgery, Marple et al reported 4 recurrences of disease, which were attributed to noncompliance with immunotherapy or inadequate operative extirpation of allergic fungal mucin.
A study by AlQahtani et al found that in patients with unilateral allergic fungal rhinosinusitis (AFRS), the risk of contralateral postoperative development of the condition was increased when, prior to endoscopic sinus surgery, the contralateral side was symptomatic and demonstrated signs of inflammation. Contralateral sinus involvement was decreased in patients in whom budesonide irrigation was used postoperatively. [32]
A literature review by Loftus et al found allergic fungal rhinosinusitis to be a top risk factor for revision endoscopic sinus surgery in patients who have undergone surgery for chronic rhinosinusitis with nasal polyposis. The investigators reported that allergic fungal rhinosinusitis was present in 28.7% of patients in whom revision was performed. [33]
---
Did this answer your question?
Additional feedback? (Optional)
Thank you for your feedback!