Answer
The range of physical findings on examination is typically broad, from nasal airway obstruction resulting from intranasal inflammation and polyposis, as depicted in the 1st image below, to gross facial disfigurement and orbital or ocular abnormalities. The author and colleagues reported that facial dysmorphism, consisting of proptosis, as depicted in the 2nd image below, telecanthus, and malar flattening, more often was seen in children than in adults (42% vs 10%) in their series of 151 patients, including 107 adults aged 18 years or older and 44 children aged 17 years or younger, as depicted in Table 2 below.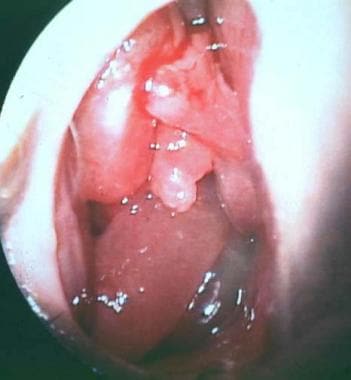 View just inside the nasal vestibule showing diffused polyposis extending into the anterior nasal cavity and vestibule; the septum is on the right, and the right lateral vestibular wall (nasal ala) is on the left. The polyps all are in the center. The polyps almost hang out of the nasal vestibule.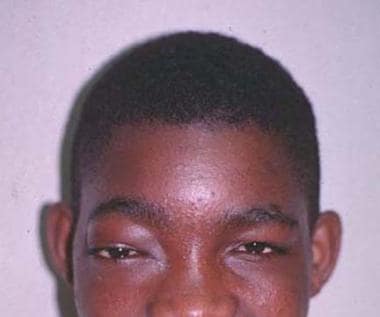 A 15-year-old boy with allergic fungal sinusitis causing right proptosis, telecanthus, and malar flattening; the position of his eyes is asymmetrical, and his nasal ala on the right is pushed inferiorly compared to the left.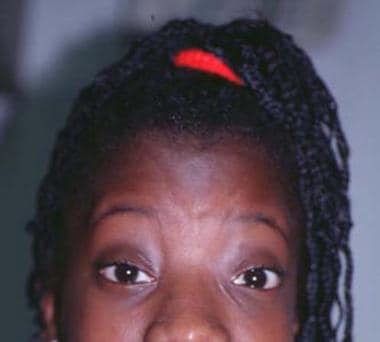 A 9-year-old girl with allergic fungal sinusitis displaying telecanthus and asymmetrical positioning of her eyes and globes.
Usually, when proptosis was present in patients in this study, telecanthus and malar flattening could be identified, as depicted in the first image above, depending on the amount of proptosis. Because development of proptosis usually occurs over long periods, no diplopia or visual loss generally is seen.
However, diplopia and visual loss were encountered in a study by Alaraj et al. The retrospective study, of 100 patients with allergic fungal sinusitis (AFS), reported that 34 individuals had associated eye problems. Proptosis was the most common ophthalmic presentation, occurring in 21 patients (61.8%). The next most frequent were epiphora (5 patients, 14.7%), visual loss (4 patients, 11.8%), diplopia (3 patients, 8.8%), and dystopia (1 patient, 2.9%). Intraorbital extension existed in 17.6% of patients. [16]
At times, extension of allergic fungal sinusitis (AFS) into adjacent anatomic spaces can produce a dramatic clinical presentation, such as visual loss. Visual loss from allergic fungal sinusitis (AFS) caused by compression of the ophthalmic nerve, described by Marple et al in 3 of 82 patients he encountered, was reversible with immediate surgical removal of fungal disease. [17] Return occurred over weeks to months.
A study by Gupta et al indicated that allergic fungal rhinosinusitis tends to be more severe when granulomas are present. The study involved 57 patients with allergic fungal rhinosinusitis, including nine patients with granulomas, with the investigators finding that those with granulomas had a tendency toward orbital and skull base erosion, as well as telecanthus, diplopia, exophthalmos, and facial pain. [18]
Table 2. Facial Asymmetry Characteristics (Open Table in a new window)
Condition

Children

Adults

Presence of facial asymmetry (44 children, 107 adults studied)

15/36 (42%) (8 unknown)*

10/103 (10%) (4 unknown)*

Proptosis (obvious) with telecanthus, with/without malar flattening

8/15

7/10

Proptosis (measured, not obvious, £2 mm)

0/15

2/10

Telecanthus alone

6/15

1/10

Malar flattening alone

1/15

0/10

*Not all initial clinical records mention the presence or absence of facial asymmetry or vision problems.
---
Did this answer your question?
Additional feedback? (Optional)
Thank you for your feedback!