Answer
Allergic rhinitis is a common health problem for which many patients do not seek appropriate medical care. Although not a life-threatening condition in most cases, it has a substantial impact on public health and the economy. The diagnosis of allergic rhinitis is based on the history, and tests are used only to confirm atopy. The three basic approaches to the treatment of allergies are (1) avoidance, (2) pharmacotherapy, and (3) immunotherapy.
A 2016 study by Mudarri estimated that the annual societal cost of allergic rhinitis in the United States, in 2014 dollars, is $24.8 billion. [1]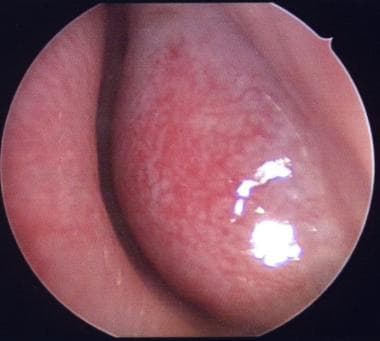 Boggy inferior turbinate in an allergic patient.
Signs and symptoms of allergic rhinitis
Patients with allergic rhinitis frequently grimace and twitch their face, in general, and nose, in particular, because of itchy mucus membranes. Chronic mouth breathing secondary to nasal congestion can result in the typical adenoid facies.
Patients may have injected conjunctiva, increased lacrimation, and long, silky eyelashes. Dennie-Morgan lines (creases in the lower eyelid skin) and allergic shiners (dark discoloration below the lower eyelids) caused by venous stasis may be present.
With regard to the nose, a transverse nasal crease may be present because of the patient's repeated lifting of the nasal tip to relieve itching and open the nasal airway. The turbinates are frequently hypertrophic and covered with a boggy, pale or bluish mucosa. Nasal secretions can range from clear and profuse to stringy and mucoid.
The mouth of an individual with allergic rhinitis may have a high, arched palate; narrow premaxilla; and receding chin, secondary to long-term mouth breathing. The posterior oropharynx may be granular because of irritation from persistent postnasal discharge.
Workup in allergic rhinitis
The diagnosis of allergic rhinitis is based on the history, and tests are used only to confirm atopy. In nasal cytologic studies, the presence of eosinophils and goblet cells is generally suggestive of allergy, whereas the presence of neutrophils and bacteria is characteristic of infection.
Skin testing is generally considered to be the standard of allergy workup. The classic wheal-and-flare responses result from the interaction between the antigen and sensitized mast cells in the skin.
In contrast to total immunoglobulin E (IgE), which has a poor clinical correlation, antigen-specific IgE antibodies are important in the diagnosis of inhalant allergy.
Management
Treatment should start with avoidance of allergens and environmental controls. In almost all cases, however, some pharmacotherapy is needed because the patient is either unwilling or unable to avoid allergens and to control the occasional exacerbations of symptoms. For patients with a severe allergy that is not responsive to environmental controls and pharmacotherapy or for those who do not wish to use medication for a lifetime, immunotherapy may be offered.
Although allergic rhinitis is a medical condition, adjunctive surgery may be offered to alleviate obstructive symptoms in appropriate individuals. Examples are nasal polypectomy in the patients who have severe polyposis and various inferior turbinate reduction maneuvers in patients who have nasal obstruction caused by turbinate hypertrophy that persists despite maximal medical therapy. [2]
---
Did this answer your question?
Additional feedback? (Optional)
Thank you for your feedback!