Answer
Answer
For small wounds to the ear without cartilaginous involvement, local infiltration may be used (see Infiltrative Administration of Local Anesthetic Agents and Ear Anesthesia for more information). However, local anesthesia is generally best avoided because infiltration into the relatively compact ear space causes pain and may distort landmarks that are crucial for cosmesis. Regional nerve blocks or field blocks are the preferred method of anesthesia in significant ear lacerations. [18]
The pain associated with local anesthesia injections can be diminished by using a smaller-gauge needle and administering the anesthetic slowly. [19] See the image below.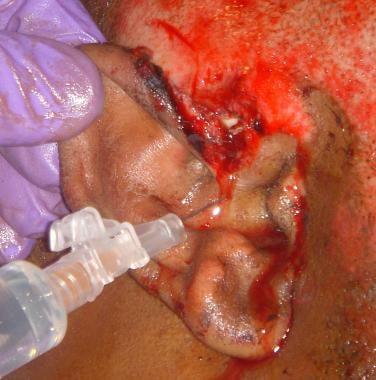 Infiltration of local anesthesia (Note: Image shown for demonstration of technique; local anesthesia not typically recommended in lacerations this large).
The use of epinephrine has classically been avoided when anesthetizing the ear for fear of ischemic necrosis in this acral area. However, there are no good data showing harm in its use, and some literature actually supports the use of epinephrine when anesthetizing the ear. One study showed that epinephrine, along with a local anesthetic, was used in over 10,000 surgical procedures on the ear and nose without any complications. [20] The use of epinephrine may be beneficial for laceration repair, as it decreases the amount of blood in the field, prolongs anesthesia, and reduces the time of the procedure.
---
Did this answer your question?
Additional feedback? (Optional)
Thank you for your feedback!