Answer
Answer
In most cases, the skin is closed with simple interrupted sutures. See the image below.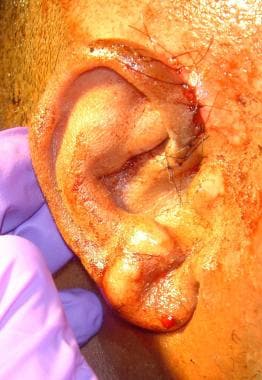 The skin of the ear is sutured in a simple interrupted technique.
Loose approximation is used in cases of contaminated wounds.
Debride any devitalized skin as necessary.
Beginning from the depth of the wound outward, close the posterior skin first, followed by the anterior and lateral surfaces of the helix.
For this, 5-0 or 6-0 nonabsorbable sutures may be used.
If possible, evert the skin on the free rim to avoid later notching and to minimize cosmetic defects.
For optimal eversion and cosmesis (eg, to avoid rim notching), vertical mattress sutures may be required for lacerations that involve the rim of the ear.
Sutures should be placed through the skin and perichondrium, not through the cartilage itself.
The skin of the ear and the underlying cartilage adhere to each other so well that separate closure of the cartilage is usually unnecessary.
---
Did this answer your question?
Additional feedback? (Optional)
Thank you for your feedback!