Answer
Answer
The avascular cartilage derives its blood supply from the overlying skin. Therefore, exposed cartilage must be either debrided or covered by skin to survive. Auricular skin often stretches to allow coverage of most defects. If the remaining skin cannot cover the cartilage, the cartilage should be cut away from the wound margin to allow overlying skin closure.
In the case of a linear laceration to the pinna in which the skin does not approximate, a wedge excision technique may be used. See the image below.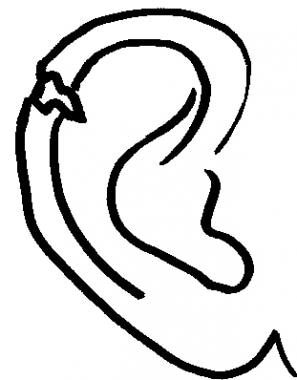 Wound that requires a wedge excision.
To perform a wedge excision, a No. 15 scalpel is used to cut a full thickness triangle from the antihelix. See the image below.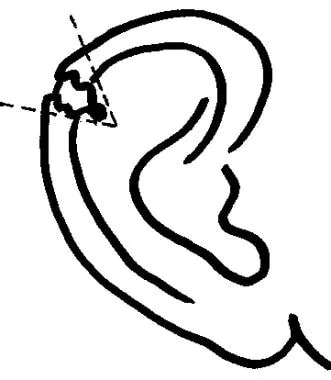 Cartilage is excised, leaving a 1-mm overhang of skin.
A 1-mm overhang of the skin beyond the cartilage is recommended to allow skin eversion when closing. See the image below.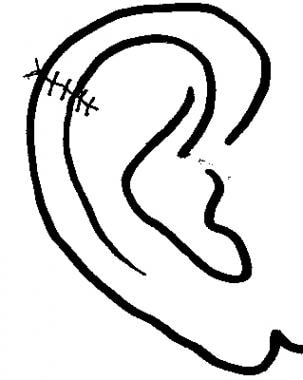 After the excision, the remaining skin is closed with eversion.
Up to 5 mm of cartilage can be removed without significant deformity.
If part of the pinna is avulsed, reattaching the amputated part is generally unwise, especially in cases of bite wounds. The margins of the defect should be trimmed, and the anterior and posterior skin should be approximated for primary healing.
In the case of extensive wounds, the cartilage may be approximated separately from the skin in a 2-layer technique. This method is only used in large lesions in order to reduce tension from the wound edges. Using 5-0 or 6-0 absorbable sutures, begin at the depth of the wound and continue outward. Cartilage is fragile; to avoid tearing, only include the perichondrium with each stitch. Only gentle approximation of the cartilage is necessary. To preserve normal landmarks, the first sutures placed should be in folds and ridges.
Smaller wounds may be approximated with a single layer of sutures through the skin and perichondrium as detailed below.
---
Did this answer your question?
Additional feedback? (Optional)
Thank you for your feedback!