Answer
Answer
Once the patient is anesthetized, inspect the wound carefully.
Gentle probing may be required to visualize through-and-through lacerations (see the image below).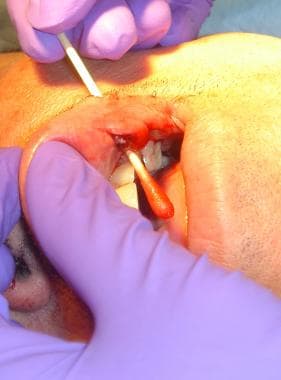 Further inspection of the anesthetized wound reveals a through-and-through laceration.
Check for concurrent chipped, missing, or mobile teeth. [10] Tooth fragments may be lodged inside the wound and may serve as a nidus of infection if not removed. [11, 12]
Intraoral wounds are prone to considerable contamination; therefore, thorough irrigation is necessary. [13]
---
Did this answer your question?
Additional feedback? (Optional)
Thank you for your feedback!