Answer
Answer
Incise the edge of hematoma along the natural skin folds using a No. 15 scalpel. A small (5 mm) incision is often all that is necessary.
Gently separate the skin and perichondrium from the hematoma and cartilage and completely express or suction out the hematoma, as shown below. Be careful not to damage the perichondrium.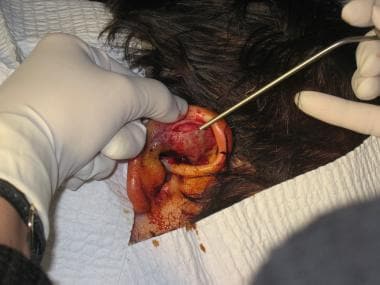 Auricular hematoma incision and drainage.
Irrigate the pocket with normal saline with an 18-ga angiocatheter.
Optional step: Leave a small drain in the incision. This allows the wound to drain but also predisposes to infection. If a drain is placed, the patient should always be given antibiotics upon discharge. The drain should be removed in 24 hours if no significant bleeding occurs.
Reapproximate the perichondrium to the cartilage.
---
Did this answer your question?
Additional feedback? (Optional)
Thank you for your feedback!